---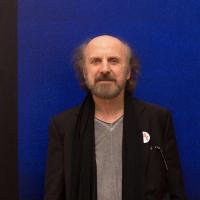 My thinking with images is a poly-image thinking. When concentrating on a painting, drawing or graphic realization, I do not aim to create a single and definitive vision of that concentration. Rather, I am oriented - open-ended - to show the relationship of multiple images that would portray this vision 'from different sides' and, as such, show its unseen characters.
This kind of compositional fulfilment through image, not as a priori, focuses on movement, on dynamics, on process, on change rather than on something final, fixed, unambiguous, definitive.
Tadeusz Gustaw Wiktor
Tadeusz Gustaw Wiktor Perennial Iconosophy, [in:] Zachęta Gallery Publishing, Warsaw 1997; p.20.
---
2021
"Lux Umbra Dei", Archdiocese Museum, Ostrów Tumski, Poznań, Poland
2017
Tadeusz Gustaw Wiktor. Polish epitaphs. An Epitaph for Janina Kraupe, Artemis Gallery, Krakow, Poland
2015
Tadeusz Gustaw Wiktor. Polish epitaphs. Epitaph for Jan Berdyszak ", University Library Gallery, Zielona Góra, Poland
"Grafinale. The Elite of Polish Graphics: Tadeusz Gustaw Wiktor. Polish epitaphs. An Epitaph for Witold Skulicz. ", Contemporary Art Gallery, Przemyśl, Poland
2010
"Wiktor. Painting. Perennial Iconosophy "- Kierat Gallery, Szczecin, Poland
2003
"Wiktor. Multi-pictures 1973 - 2003. Painting. " - BWA Contemporary Art Gallery Katowice, Poland
2000
"Graphic show from the years 1980 - 2000. Exhibition of the Grand Prix Winner of the 3rd Polish Print Triennial '97 Katowice", Sektor I Gallery, Katowice, Poland
1997
"Perennial Iconosophy", Kordegarda Gallery, Warsaw, Poland
1996
"Icons. Gates of Light. ", Artemis Gallery, Krakow, Poland
1993
"Wiktor. Pan-image research studio. ", Art Propaganda Center, Łódź, Łódź, Poland
1989
"... out of nowhere, nowhere, nowhere ...", Krzysztofory Gallery, Krakow, Poland
1987
"Dialogue with Malevich", University Gallery of Contemporary Art, University of Silesia, Cieszyn, Poland
1976
"Non-multiplication graphics", Galeria B, Krakow, Poland