---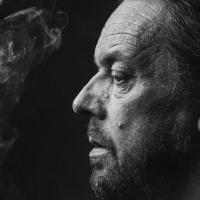 Dominik Lejman was born in 1969 in Gdańsk. From 1989 to 1993 he studied at the State Higher School of Visual Arts in Gdańsk at the Faculty of Painting and Graphic Arts and at the Royal College of Art in London from 1993 to 1995. Since 2005 he has been running a painting studio at the University of Arts in Poznań. He combines painting with video projects; he creates video frescoes, works in the form of large-format murals and projects in public space.
He creates so-called hybrid paintings consisting of a painting layer applied to canvas on which a looped video projection is projected.
In his works, he draws on classical models from the world of art and, by bringing them up to date, introduces them into a new cultural context while preserving their binding content.
His works can be found in the collections of the Centre for Contemporary Art Ujazdowski Castle, the Museum of Art in Łódź, public spaces such as the Cleveland Clinic collection and many private collections. He has won Polish and international awards, including the Polityka Passport (2001) and the Berlin Art Prize (2018).
---
2023
Reenactment 2023, Kościół NMP Osrtów Tumski, Galeria Akademii Lubrańskiego, Poznań
2022
Lunatics, Madnicity Pavilion, San Servolo, Venice
When Painting Becomes Attitude Filharmonia Szczecin
2020
Air Wants To Go, OP ENHEIM Wrocław
Dominik Lejman/Wojciech Leder, Galeria IMAGINARIUM
Łódz
2019
Haptic Aphorisms, Galerie Żak|Branicka, Berlin
2018
Łaźnia Centre for Contemporary Art, Gdańsk, Poland
2017
Double Take, Vincente' 17, Ermida, Lisbon
PŁOT, Galeria Miejska Arsenał, Poznań
2016
Not All Prayers are Oral, MOS, Gorzów Wlkp., Poland
2015
NY Skating (Territories), Galeri Image Aarhus, Denmark
2014
dis/connected, ŻAK | BRANICKA, Berlin
Delight, Galeria ASP Gdańsk
2012
Far Too Close, Yumiko Chiba Associates Viewing Room Shinjuku, Tokyo; Kyoto City University of Arts
Gallery @KCUA, Kyoto, Japan
2011
Far Too Close, ŻAK | BRANICKA, Berlin
Double Layer, European Parliament, Brussels