---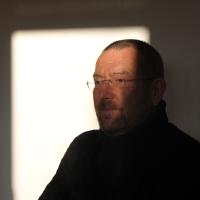 Mariusz Kruk's work undoubtedly lies at the heart of the development of Polish art in the 1980s. What distinguishes him from his contemporaries is his original and unconventional choice of materials used to create his individual works. Kruk reaches for objects neglected in artistic discourse, such as cardboard, tyres, string, etc.
In his works, it becomes most important to strive to catch moments somewhere between micro and macro reality. The use of materials that are usually underestimated and considered insignificant, of little sophistication, further enhances and emphasises the inattentiveness of perceiving those moments in between that constitute the happening - the existence of causes of events and the effects that bind them.
 

In addition to the aforementioned fantasy-lyrical installations, he also realises himself in the mediums of drawing, painting and poetry.
---
2022
"Mariusz Kruk. Solo Exhibition", White Gallery, Lublin, Poland
2021
"Mariusz Kruk Symbiosis of Opposites II", BWA Olsztyn, Poland
2020
"KOJARZ KOLAŻ", Galeria Biała, Lublin, Poland
2019
"Art is Value. From the Collection of PKO Bank Polski", National Museum in Warsaw, Poland
2017
"Great 19", SKALA Gallery, Poznań, Poland
2014
"Installers", Art Station Gallery, Poznań, Poland
2014
"Vital Realism of the Koło Klipsa Group", Museum of Art in Łódź, Poland
2012
'Correspondences. Modern Art and Universalism", Museum of Art in Łódź, Poland
2010
"Inside Installations", S.M.A.K. Municipal Museum of Contemporary Art., Ghent, Belgium
2004
Masters of Contemporary Painting, Mariusz Kruk, ABC Gallery, National Museum, Poznań; State Art Gallery, Sopot; "Zachęta" National Gallery of Art, Warsaw, Poland
1996
Horizons. 14 Polish Contemporary Artists, Sonje Museum of Contemporary Art, Seul
1994/1995
Cocido y crudo, Museo Nacional Centro de Arte Reina Sofia, Madryt, Sapain
1993
Galeria Froment & Putman, Paris, Francja
1991
Collection of 20th Century Art at the Museum of Art in Łódź, Zachęta National Art Gallery, Warsaw
1988
Bałka, Kruk, Kurka, Haas Centrum voor Aktuele Kunst, Haga