---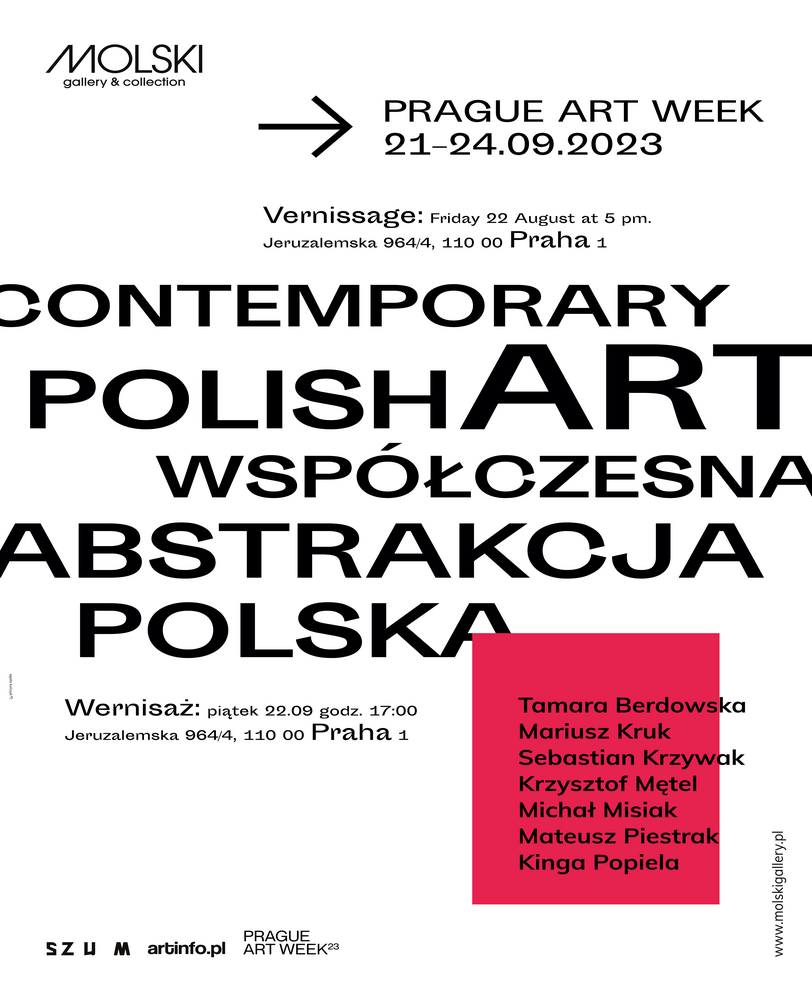 PRAGUE ART WEEK 2023
On 21-24 September 2023, MOLSKI gallery&collection took part in the second edition of Prague Art Week, as part of which we prepared a special #pop-up exhibition entitled 'Contemporary Polish Abstraction'.
The works of seven artists using the language of abstraction were presented. Among them were artists such as Tamara Berdowska, Mariusz Kruk, Sebastian Krzywak, Krzysztof Mętel, Michał Misiak, Mateusz Piestrak and Kinga Popiela.
The exhibition took place in an unusual space that used to be the headquarters of the Czech National Bank. The fifth floor of the building designed specifically for the bank's management turned into an exhibition space for several days.
The paintings, which in galleries we are used to seeing hanging on white walls, this time had to enter into a dialogue with a surface which was slightly different, as it had the texture of wallpaper and was blue in colour. In this way, the situation created allowed us to move art from the gallery space to a somewhat functional space. In a way, the situation made it possible to change the perception of the work of art we were looking at and to turn towards it as an object that begins to function in its own right as an element co-creating everyday space.
The second edition of Prague Art Week23 exceeded last year's attendance in just four days from 21 to 24 September. A record 4,200 people visited the opening at the National Gallery, where PAW23 also took place, 500 professionals, visitors and PAW partners attended the professional programme at PAW Superstudio, and the 4 special exhibitions of PAW23 in the former bank building on Jerusalem Street attracted almost 2,000 visitors.